Look out world! The apocalypse is upon us! Hide your kids! Hide your wife! And your husbands because Google's Mobilegeddon is ranking everybody around here!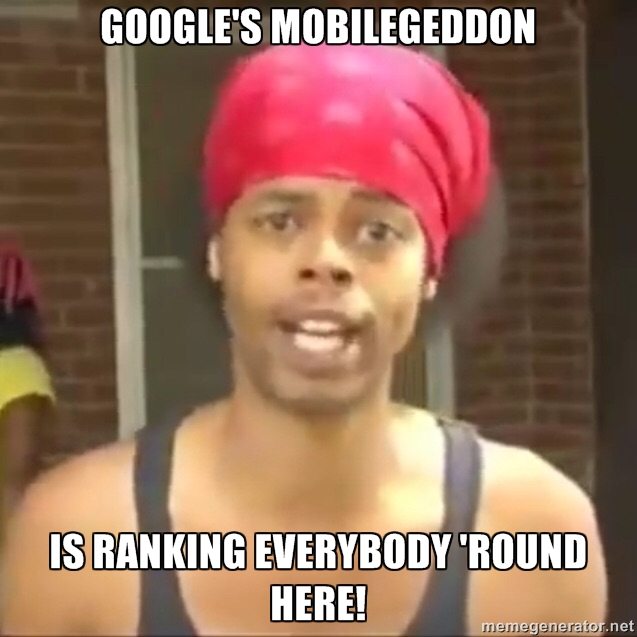 Ok, ok maybe we are all taking this a little too seriously. I mean, that sounds like a pretty intimidating name right? Well, honestly I think it's a little too over the top as names go, and it was coined by SEO's within the industry and not by me. It sure can stir up a lot of questions and worries that website owners may have if they don't know exactly what is going on. You may have heard friendlier terms such as Panda, Hummingbird, or Penguin from previous algorithm changes that made big stirs within search results, so my best guess is SEO's just want to grab people's attention with scarier sounding names.
Now, when Google made the announcement back in February that they were going to launch this update on April 21st, it sounded a lot less threatening.  It was labeled as a Mobile Friendly Search update which after reading states they want to give users better search results when they are on their mobile phones and that can make some feel a little uncomfortable or nervous about how they can make their website more mobile ready. To some an update like this may have come as no surprise, but for others it can be a stressor and you don't know what to do! If you are in the 2nd camp, don't worry!  Infogenix is here to help! And we've got marshmallows!
So in a nut shell what is it that Google is trying to do? Plain and simply they are trying to give their users a much better experience in mobile search.  We're in 2015 (the future is now!) and the majority of us all have smart phones that we use constantly to talk, text, play a little candy crush during a boring meeting, and to search online while on the go. It was actually summer of last year when mobile search surpassed searches on computers, and it has taken Google almost a year to catch up with that trend with this update to their algorithm. (Now who's scrambling?) They are a huge company and are constantly working hard to make changes on search results.  Their primary goal is to help you and your customers find what they are looking for in an instant. Back in 2014 they made over 500 updates to their algorithm! Yeah, 500! It's a lot but you have a team of SEO experts here at Infogenix to help you achieve your goals with your business online.
So let's take a look at some examples to see what has happened since this update went live yesterday. It honestly isn't surprising to see sites that have a very mobile friendly website begin to show an increase in their rankings and those that aren't as friendly starting to drop. Here are some graphs to show you the trend day by day:


Source: AWR Blog
Overall what we are seeing is a 12% increase in visibility for mobile friendly sites than what they had a week ago. It is a small jump but I predict that as this update continues to roll forward it is going to keep jumping higher and higher in mobile search.  It will be the same trend for non-mobile friendly sites, just more of a slowly falling, and falling, to the bottom of Google's search results. If you're like me, we don't want that to happen to your website when a lot of customers are going to be finding you on their mobile devices.
If you aren't sure if your website is mobile friendly there is a free tool Google offers for you to check: Mobile-Friendly Test
You definitely have the upper hand to your competitors if you're site is already mobile friendly. If it isn't then contact us and we can use our master mobile web design skills to get your site where it needs to be! Either way it also is very important that you start working on your rankings for desktop and mobile search now! If you're reading about this change, it's guaranteed that your competitors are as well, and they want to increase their visibility just as much as you do. Our SEO team is amazing, I know since I'm in it, and we want to help you gain more followers, make more sales, and have greater visibility online ahead of those competitors!
I'm hoping this helps clear the air a bit about what this whole update is, and what are the best things to do moving forward. If you have any questions or comments please type them in below! Or just give us a call! Whichever you'd like! How many more times can I use and exclamation point!? The world may never know!!!