Search engine optimization has been around since 1997. Since then, it's evolved into a very intricate system that includes algorithms from major search engines, particularly Google. There are three primary considerations when you're trying to improve the SEO value of your website – widespread searches, local searches, and map pack placement.
For the most part, small businesses and those that only offer goods and services to limited geographical areas don't have to worry about widespread searches. Instead, their SEO budget should include a primary focus on local searches and map pack placement.
Contrary to what some individuals believe, you can't just throw in the cities your company tailors to and rank well in search engines. Each page of your website presents a unique opportunity to appeal to local searchers and to place better in local searches on different search engines.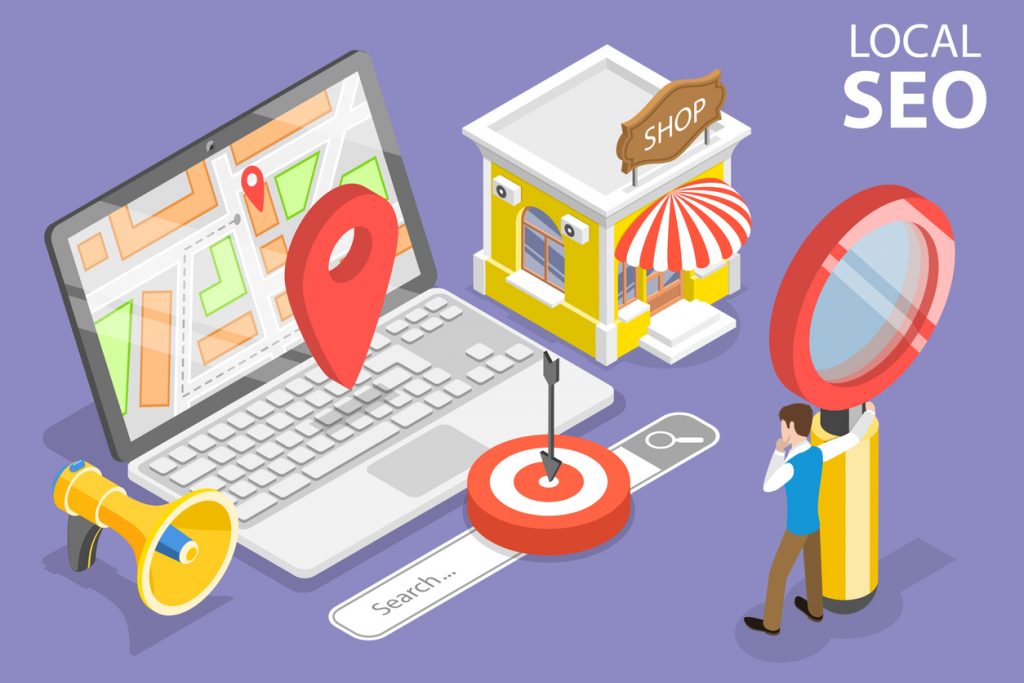 Core Elements of Local Search Placement
There are three primary factors that Google considers when determining the ranking of a local business.
Relevance: Relevance deals with how your website relates to a specific search.
Proximity: This has to do with how close your company is to the searcher's actual location based on their GPS or their targeted search area.
Reviews: Customer reviews are largely factored into the placement of your business among similar businesses.
Developing your local SEO strategy requires that you consider all these factors and determine the most effective and impactful manner to weave them into your website. Each page of the website is a chance to increase the SEO factors that will move your company higher in the rankings when targeted searches occur.
Online Review Management
Online reviews about your company play a huge role in building your virtual reputation. While it might be tempting to just leave those alone, it's never a good idea to allow reviews to stagnate. Instead, use every review to boost your company's online brand.
Companies that answer every review are viewed as more customer-focused and responsive. This gives some searchers a sense of security about your company. Even a couple of sentences acknowledging a positive review can be just as valuable as that review.
Negative or neutral reviews might initially seem like a bad thing to have posted online. Instead of looking at them in that manner, use them as a way to show that you want to make your customers happy with their experience. Reply to those reviews with concern. Contact the reviewer and try to correct the problem. Once the matter is resolved, follow up on the review thanking the reviewer for the opportunity to make things right.
Secondary Signals for Local Search Placement
Several secondary signals work together to affect search engine placement. While these don't have as big of an impact as the three core elements of local search engine placement, they can mean the difference between staying stagnant in the searches and moving your company up higher in the rankings.
Review signals
Review signals are more than just how many favorable reviews your company has. Instead, it has to do with how diverse the reviews are, when they were submitted, and how many reviews the company has.
Linking signals
Inbound links to your website and outbound links from your website are important. The anchor text other websites use to link to your website is important. Your outbound links should be to high-quality domains. Some of the outbound links should be to other local websites for relevance.
Business listing signals
Business listing signals don't have anything to do with your company's website. Instead, it deals with where your company is listed online, most importantly, on popular local business listings, including:
Google Business
Bing Places
Yelp
Facebook
Apple Maps
LinkedIn
Better Business Bureau
Local Chamber of Commerce
InfoUSA
Local Directories
411.com
CitySearch.com
Foursquare.com
MerchantCircle.com
Other similar directories, including industry-specific ones
It's crucial that you have the NAP (name, address, and phone number) for your business prominently displayed on your website because NAP is used to cross-reference these business listings with your company. Without this information, the search engines won't include the information in your online search placement score. It is also important to make sure that the NAP is constant across the web. You don't want to confuse customers or search engines that associate your address with your business.
Social media signals
Interactions with the social media accounts you have linked to your website are important. Search engines crawl things like votes, posts, links, and reviews on those social media profiles. Follower engagement on these profiles is important because search engines perceive good engagement as a sign that the company is relevant and has a high value.
Visitor behavior signals
The way visitors interact with your website also impacts search engine placement. The location of people who click through your website, how many clicks to call occur, and the number of check-ins at your company all play a role in how the search engine algorithm perceives the website.
Appealing to Local Searchers
Appealing to local searchers requires you to do several things. The goal is to have people in your target area view your company as an authority in your chosen industry. It should show visitors that you're a local company that cares about the area and is investing in the community. Visitors to your website need to know that your company is reputable and authentic.
Claim your Google My Business account: This enables you to take control of the information in the search engine results. You can add features, including photos that enable searchers to take a look at your company. There's also an option to upload a 30-second video to introduce your company.
Localize your social media profiles: Complete the location information and stay active on the profile. Add pictures. Tag local landmarks when you can. For example, if you take your team out for lunch, tag the restaurant. This adds authenticity to the profile.
Include local keywords: Local keywords include things like your proximity to popular locations, such as major attractions, airports, and similar points. Some localized content, such as neighborhood names and similar information can be sprinkled in but shouldn't be overwhelming.
Create city pages: Each page should have different content, so the pages aren't flagged as copies of each other. This strategy is best for companies that have multiple locations.
Importance of a User-Friendly Interface
Your entire website must be user-friendly. This includes the overall layout and the information you present. The days of keyword stuffing to boost search engine rankings are long gone. Instead, you must provide valuable information that's directly related to the topic of the page.
Content should be broken down into chunks of content that are easy to digest. Remember, visitors to websites often skim content so having long paragraphs on a page is pointless. Bulleted lists, subheadings, infographics, and pictures can break up information as long as they aren't intrusive or distracting.
The website should be easy to navigate for all users. It can't be cluttered and all text should be easy to read. Using elements like alt text for pictures enhances the experience for visitors who may have vision challenges. This also helps to ensure that your website is compliant with Americans with Disabilities Act guidelines.
Inclusion of Core Web Vitals
You have to consider how your website's pages perform when you're developing your company's website. These have to do with the page experience of visitors to a website. The page's responsiveness, loading performance, and stability are all factors in the page experience, but these are difficult to quantify for the purpose of website evaluation and search engine placement.
Google introduced the Core Web Vitals to address the quantification difficulties. These three values include:
Cumulative Layout Shift (CLS): This is a measure of how stable your website is as it's loading. Elements shifting as a page load has a negative impact on this metric.
Largest Contentful Paint (LCP): This is a measure of how fast a website loads based on the largest element on the page. All elements, including text and graphics, are considered.
First Input Display (FID): This is a measure of website responsiveness. All page interactions, including clicks and scrolls, are factored into this score.
Google uses red, yellow, and green visuals to help website owners know what their scores are for the Core Web Vitals. Having all three in the green range is necessary for the website to receive a boost in the rankings.
Conversion Optimization Increases Return on Investment
The conversion of either visits-to-sales or visits-to-clicks is important because a better conversion rate means that you're getting the best return on investment possible. Your business' website can be one of the greatest advertising tools you have, as long as it's kept current and relevant to current needs and trends. Optimizing the website to encourage visitors to make a purchase or contact your company is highly beneficial, especially when it's done in a friendly, non-intrusive manner.
Contact Infogenix to Improve Your Company's Local Online Presence
Search engine algorithms often change, which makes it difficult for most business owners to stay on top of what their company's website needs. The professionals at Infogenix keep track of the most current algorithm components to ensure our clients can place well in search engine results. Contact our team for a free estimate for our personalized local SEO service by giving us a call or submitting our convenient online form.