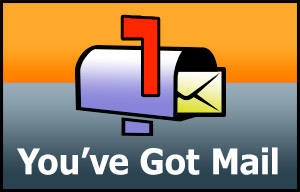 "You've got mail" was a fun phrase that we had back in the 90's that we all got excited about! You dial up your modem to the internet and hear that iconic voice letting us know we had new mail. How cool is that to have it come digitally rather than a letter in the mail, and it was instant! Any now we have been spoiled, these email accounts are all pretty much free, and we use them constantly day in and day out.  We don't have any cool voices telling us if we have mail, and thankfully we don't have a voice advertising to us either! but, we do have ads in or emails. and one of the largest platforms for email Gmail, which is owned by Google, now can allow marketers to advertise to Gmail users.
Those of you that are familiar with Google Adwords know what Pay Per Click is, and how it can be a different avenue to market your business or service. Now within that platform you can use the Gmail platform to also market to your customers.  And there are probably some of you that have seen this already when you are looking in your Gmail accounts. I know that I have when the organization of my emails changed to 3 areas. Primary is the main section, then Social, and Promotions.  In the social and promotions sections is now where you will see ads popping up that are promoting various items. when this feature was first launched it was only available to higher end companies that sell things like car insurance, games, and other items that match what emails are coming to you.
It can at times seem perhaps a little invasive but is effective in targeting a demographic that would be looking for the items that you are wanting to sell, and are getting emails within that niche.  It is a rather interesting and exciting development for marketers to try and utilize for their clients.  One additional item to add in the toolbelt that is internet marketing.
If you're interested in learning more about different ways to market online, and to reach more customers with a lot less cost and better ROI than typical marketing channels please give us a call! We would love to help you out!